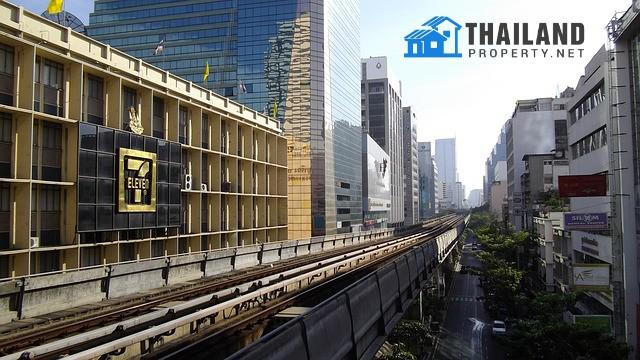 Thailand has too many unsold properties, particularly residential properties. Across the country, 454,814 residential units failed to sell in 2018. All these units combined had a total value of $41 billion USD, said Sopon Pornchokchai, president of the Agency for Real Estate Affairs.
Housing supplies in the Bangkok Metropolitan Region alone account for 40 per cent of the total available residential units and 55 per cent of the overall value.
Residential supplies included condominium and apartments units, detached and semi-detached homes, shophouses, townhouses, and residential land subdivision serviced by Thailand's formal private housing developers.
President of the Agency for Real Estate Affairs, Dr.Sopon Pornchokchai, said that in 2018, "448 housing projects were launched with a total number of units of 126,167 units." The overall value of the housing projects undertaken in the Bangkok Metropolitan Area amounted to $17,267 billion USD. This is already a housing boom as per expert diagnosis.
Largest Unsold Inventory
Bangkok currently has the biggest unsold inventory with approximately 91,600 units or 20 per cent of the total units produced. Chonburi, a nearby province east of Bangkok, ranks second with a total 34,400 units or 8 per cent unsold supplies. Nonthaburi follows closely with around 32,700 units or 7 per cent. Next, Samut Prakan and Pathum Thani place fourth and fifth with 25,300 (6 per cent) and 22,600 (5 per cent) unsold units respectively.
All in all, the first five cities comprise about 45 per cent of the total units that did not sell towards the end of 2018. Figures would then carried over into 2019. Bangkok Metropolitan Region, on one hand, constitutes 40 per cent of all housing supplies.
The average buying price in Bangkok is at $89,578 USD, which was relatively cheaper than units sold in Kuala Lumpur, Hanoi, Ho Chi Minh City, and Phnom Penh. Condo units in the capitals and major cities of Malaysia, Vietnam and Cambodia sold at around $136,000 USD above.
However, according to Sopon Pornchokchai, president of the Agency for Real Estate Affairs, "average price [in Bangkok] would still be higher than that in Jakarta and Manila which were below $80,000 USD." The truth is that there is no housing shortage in Thailand. Majority of the household can afford to purchase property in an open market setting.
Weak Demand for Housing in Bangkok
What concerns the Bank of Thailand is the risk of low demand for condos from foreigners, especially Chinese foreign buyers. The central bank chief notes that the lack of demand can make the Thai property market vulnerable when the global economy slows down.
Based on data shared by the central bank, there was a surge in foreign condo ownership in the third quarter of 2018. Foreign condominium owners grew to 31 per cent from 27 per cent in 2017 and 21 per cent in 2016. Moreover, between July and September 2018, money transfers made by foreigner condo owners reached an impressive 68 billion baht.
Dr Sopon predicted that this year, the real estate narrative would be different but not entirely negative. At some point in 2019, supplies in the Thai real estate market would drop by 10 or 15 per cent in value due to the following factors: country's economic slowdown, a vague political atmosphere, international issues that have a major negative impact on ASEAN countries such as the trade war between China and the United States.
At present, 20 per cent of the housing supplies in Bangkok were resolved by foreign investment (mainly from China home/condo buyers). Another 15 per cent of the supplies were purchased by speculators. Real home buyers in the local property market only account for 65 per cent or two-thirds of the total real estate sales.