Thailand is one of the most sought after tourist destinations in Asia. From cheap prices to a rich culture that combines the old with the new, there's always something worth discovering in the Land of Smiles. In fact, Bangkok, Thailand's capital, is a popular place for expats to settle in for a time or for as long as possible.
Many people wonder what could possibly make Thailand, particularly Bangkok, an attractive place for many expats. While we already gave out a few clues, for your better understanding, we're breaking down some reasons why foreigners prefer to settle down in this Southeast Asian country.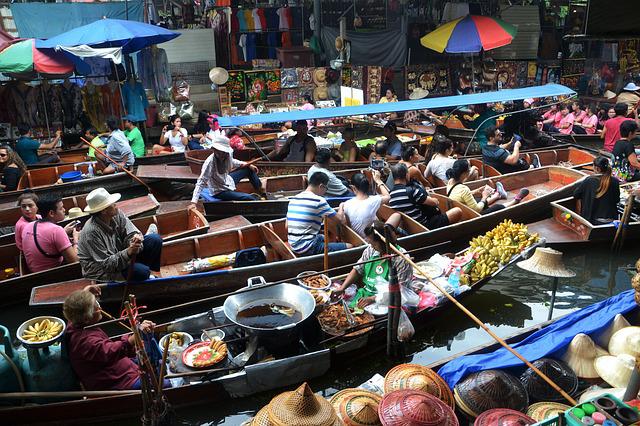 Settling Down in Thailand
If you're from Europe or North America, Thailand is like a breath of fresh air from your expensive lifestyle. According to a 2015 Expat Explorer Survey conducted by HSBC, Thailand is relatively more affordable for expats. They can find accommodation with ease and live anywhere in the country without losing all their money.
HSBC Expat head, Dean Blackburn, said: "Thailand is a strong option for expats keen to get on the property ladder." Although there are protectionist laws that tend to discourage expats (e.g. only 49% foreign ownership of condo units), property ownership in Thailand is hardly an issue for foreigners unless they want to live in the place for a really long time.
Most expats reside near access points (BTS, MRT and bus stations). They stay close to public transits for easy commuting to and from different areas of Bangkok. According to a BBC article, a number of expats live along Sukhumvit Road, Ekkamai, Thong Lo, Silom, Petchaburi and near the Chao Phraya River.
Coldwell Banker Thailand CEO Adam Taugwalder believes that there is more to Thailand than affordable properties. Prices have obviously surged compared to the last few years. Condo units have become more expensive over the years. Land values have also increased due to ongoing renovations and construction of upscale buildings.
Taugwalder shared: "Besides trade and commerce, people also come here for one of the leading food scenes, a thriving shopping hub [and] a growing art scene."
Business in Thailand
Thailand has long held a regional cachet as a creative tech hub. But the world took more serious notice when 500 Startups, a seed capital investment company, announced in early 2015 that it would be opening up a $10m micro-fund in the Kingdom to forge access to the rest of Asia.
"The start-up scene in Thailand is exploding, backed by ever-improving infrastructure," said Wladimir Baranoff-Rossine, founder of MobiCart, a British mobile-commerce company and founder of Bangkok-based Agent Drive. As well, "for $1,400 [a month] you can hire a very experienced westerner in Thailand, which would cost you five times that in the UK."
In comparison, a typical Thai account manager with less than five years of experience can earn up to 30,000 baht ($853) a month, according to Adecco's Thailand Salary Guide 2015.