In the last few months, residents of Bangkok have become more aware of the importance of clean air. The country bore the brunt of persistent air pollution with highly toxic levels of microscopic particles (PM2.5). There were several reported health problems and it even reached a point where the government had to suspend classes for the sake of students' health. The city is now working to improve air quality through sustainable solutions.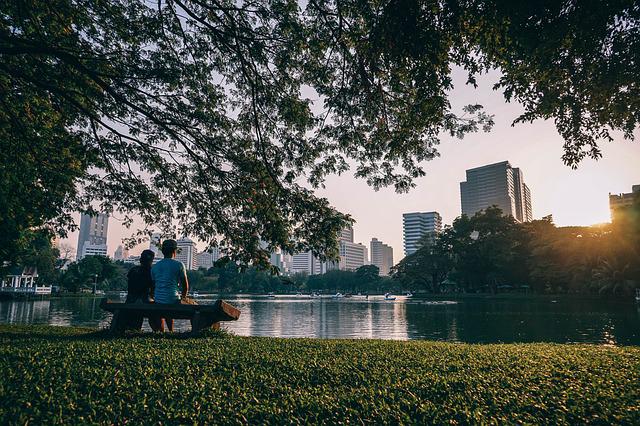 How Important is Air Quality Among Bangkokians?
The Parq, a mixed-use establishment and retail complex currently in its development phase along Rama IV Road, recently commissioned a Nielsen survey on how much the public values clean air. As per results, most of the respondents were more concerned with the quality of air indoors.
Ratings were as follows:
(1) 64 per cent said that good indoor air quality is more important
(2) 45 per cent believed that it is more important to have access to natural light and scenic views
(3) 40 per cent preferred having plants and greenery within the building or office premises.
All of the abovementioned factors contributed to worker productivity and well-being.
Because more than 90 per cent of the time, people stay indoors, buildings need to maintain a conducive living and working environment. Leading developers in Bangkok are starting to adopt green methods to ensure that employees and tenants are safe from polluted air and toxic particles. Many real estate developers are also hoping to get certified by organisations like LEED and WELL.
What are LEED and WELL?
LEED stands for Leadership in Energy and Environmental Design. It is a globally recognised certification for sustainable buildings. The organisation's goal is to reduce a building's impact on people and their surroundings by using environment-friendly materials and systems. Its advocacy also covers optimising resource optimisations and reducing carbon emissions.
WELL, on one hand, is a set of design and construction standards that seek to improve human health through innovation. Efforts run the gamut from design to remodelling buildings to light fixtures and air ventilation. Its goal is to integrate authoritative research with best practices in design and construction so as to safeguard the health and well-being of humanity.
WELL-registered projects now have an overall global impact of more than 20.8 million square meters. The [Global Wellness Institute] reports that wellness real estate accounts for 134 billion USD globally.
LEED and WELL have different certification levels and sustainable international developments have the highest levels of certification. In Thailand, despite a surge in registrations last year, only around 20 projects have been received the highest LEED Platinum certification as of this writing.
What is Sustainability in the Context of Real Estate Development?
Su Lin Soon, The Parq's CEO for development, told Bangkok Post: "Our purpose as a responsible developer is to enrich the lives of those who spend time in our buildings, whether through its human-centric and sustainable design, energy efficiency, resource efficacy, or seamless operational practices."
Miss Soon added that "sustainability is as much about the environment as human sustainability" and the industry must prioritise so that people's well-being will likewise sustainable.
What pays off for most office tenants is not just better air quality. They also need efficient utilities, technological innovations and features that add value to their working hours. For example, lounge areas with greenery, drinking water station, charging stations and the like. This will not only be cost-efficient for building owners but will also encourage tenants to stay longer.
According to Miss Soon: "The Parq is a wellness-focused workplace development setting new quality of life standards for its inhabitants. LEED and WELL building standards work symbiotically to ensure buildings and communities preserve precious resources for a brighter future." She said that being a pioneer of this venture in Thailand is very important.
---
For more Thai property news and events, click on this link.